Creating a safe haven to stop and feel for early childhood educators and young children
By Danielle Rice, LMSW, IMH-E®
Covid-19 exacerbated the already cracking foundation of our childcare and education systems in the United States, as parents grappled with childcare arrangements while attempting to balance the demands of work and home, children were witnesses to it all. This pandemic has left no one unscathed and that includes our infant and early childhood mental health (IECMH) workforce, the professionals of varying disciplines who have been tasked with caring for our little ones.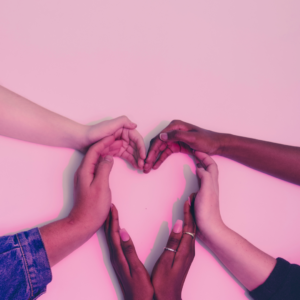 As a reflective consultant, I provide group reflective consultation to early childhood educators and the stories I'm hearing week after week in consultation are gut wrenching. As I work in earnest to provide emotional support and a holding container for the overflow of emotion that has been embedded in the bodies of educators, there is often a sense of being overwhelmed and feelings of defeat that permeate the air. 
More than ever, I hear reports of early childhood educators feeling frustrated at the limited social emotional capacity of the children they work with. 
There is a push to help children "catch up" without pausing to acknowledge what has slowed them down. 
What happened to children over the last two years? What has happened within their family over the last two years? Furthermore, what has happened to our IECMH work force over the past two years? We have experienced collective trauma, and many have not taken a moment to process. We are moving from moment to moment in an effort to survive and very little space has been created to stop and feel. 
Decades of research into child development have highlighted the role of trauma and toxic stress on the developing brain (Nelson et al., 2020).  Increased levels of ongoing stress, often referred to as toxic stress, can noticeably affect the developing brain of infants and toddlers. Changes in normal routines can be traumatic for very young children, particularly for children who don't have an attentive caregiver who consistently responds to their needs.  Many people were out of work due to the pandemic and the financial ramifications have been significant.  The pandemic has intensified the housing crisis, food insecurity has rapidly increased, all the while rates of intimate partner violence and neglect have increased. Absence of concrete needs such as food, shelter, clothing, and medical care can make it difficult for caregivers to feed, nurture, and protect their children from harm (Weatherston, Ribaudo, 2020). For families of color, these issues are compounded by on-going systematic racism that inadequate access to resources. Adverse childhood experiences can have long-term implications for very young children.  
In my most recent group reflective consultation, I observed an early educator speak through tears after witnessing three separate incidents of physical aggression between preschoolers and feeling amiss at how to best support these very young children. This educator explained the increasing physical aggression amongst children and struggled to understand where the aggression was stemming from.  It felt important to remind the group of the crucial development that happens within the first 3 years of life.   The brain develops rapidly from the age of birth to 3, and constant stressors during the first three years of life can lead to changes in the brain's structure and the body's ability to regulate stress.  Many children have experienced ongoing and pervasive stress, and as such are in constant "fight" or "flight" mode. Children are entering childcare centers and schools and may appear withdrawn, aggressive, or unfocused. Our response can either add to the stress they are experiencing or provide a safe haven for comfort and safety in the face of fear or a threat.
The revolving door of quarantine, isolation, social distancing, shifting parenting priorities due to work demands, and closed childcare centers, created a mashup of confusion for our very young children.  It has been difficult for adults to predict what will happen next, the constant feeling of uncertainty can feel unsettling and unsafe.  As a consultant, I'm tasked with holding both the social emotional development of the young child in mind, as well as IECMH professional, who is struggling with feelings of needing to do more to support children and their caregivers, while simultaneously feeling tapped out. It's important to acknowledge these dueling feelings exist. Early childhood educators are feeling the pressure to make up for the two lost years of the pandemic and as a reflective consultant it's important for us to explore this together.
Encouraging educators to think about how their lives have been impacted over the last two years and to explore their needs in moving forward, creates space for them to be held and seen and room to think differently about how the children they work with may need to be held. 
We all are needing a collective sense of safety, after the grief, isolation, and uncertainty this pandemic has caused.  Thinking deeply together about what it means to be and feel safe is crucial in helping children who are struggling with their social emotional development. 
References: 
Nelson C A, Bhutta Z A, Burke Harris N , Danese A, Samara M. (2020). Adversity in childhood is linked to mental and physical health throughout life

.

BMJ 

2020;  

371 :m3048

Weatherston, D., Ribaudo, J., The Michigan Collaborative for Infant Mental Health Research (2020). The Michigan Infant Mental Health Home Visiting Model. Infant Mental Health Journal, 41(2), 166-177.