Keeping the Therapist in Mind: Examining Diversity in the Reflective Process
By Kristina Figaro, LMSW, IMH-E® Kassandra Maple, LMSW, IMH-E® & Chyleetzia Johnson, MA, LPC, IMH E®
INTRODUCTION
Relationships are complex, as they form the foundation in regulating emotions and managing life's stressors (Stroud, 2010; Weatherston & Tableman, 2015).  Within the working relationship of the clinician and the client, each brings their own set of histories, culture, and realities that influence the shaping of their lives. Nevertheless, in many instances, there is fear in discussing issues around the differences that make individuals and family systems unique, which can be harmful to both the therapeutic and supervisory relationship.  Racism, stereotypes, and inequality are consequences to living. These concepts need to be understood to assist the therapeutic relationship between the clinician and the client as well as the supervisory relationship between the supervisor and the supervisee (Stroud, 2010).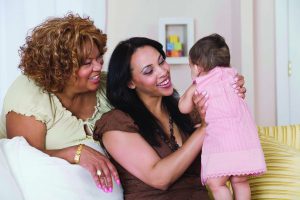 When considering the examination of diversity, the central task of the clinician is to become skilled in mindfulness (Shahmoon-Shanok & Stevenson, 2015). This opens the door to the multifaceted components within diversity as it pertains to understanding oneself and others. Plainly, becoming mindful leads to the exploration of the use of self and self-awareness through the reflective process (Ghosh Ippen, Norona, & Thomas, 2012). In ongoing reflective supervision, the clinician is able to make considerations regarding internal biases through the development of a holding environment or containment, which promotes the function of cooperative problem solving, open communication, mutual respect, regulation of self, and emotional safety (Stroud, 2010). The parallel process, in an effective holding environment, assists in building secure relationships as the clinician is able to "hold" the diverse narratives of the family system because the clinician is being "held" by their supervisor (Weatherston & Tableman, 2015).
In order to best exemplify diversity within the reflective process, narratives of the lead presenters from the Keeping the Therapist in Mind: Examining Diversity in the Reflective Process workshop, as featured at the 2017 MI-AIMH conference, will be used. The distinct experience in each narrative provides insight into the development of vulnerability, professional use of self, and the practice of a culturally informed approach. The compiled narratives are likened to a type of journey in that they illustrate the evolution of the presenters' self-awareness as they give voice to their experiences as minorities in the field of Infant Mental Health.
KRISTINA'S JOURNEY TOWARD DIVERSITY
I will start my journey with a moment of truthful confession. I have always had a passion for diversity, and often I have been compelled to speak about my experiences. However, when speaking about the topic of diversity and not so pleasant experiences, it is easy to become identified as the "angry black woman." This is a title I never wanted to possess, nor do I ever want associated with my character. Thus, speaking out on such matters is a source of pleasure and pain as I am thrilled to share my experience, but uncertain of the unmet consequence that could be attached to my reputation. I was invited to participate in the planning committee for the 2017 MI-AIMH conference by my group reflective supervisor. With some apprehension, I agreed to participate and, to my surprise, I had an opportunity like none other. I found myself listening to others, being open to new ideas, and having the courage to say how I felt about controversial topics such as diversity. I was able to share my experience and perspective of diversity in the context of both the workplace and within the community. I had no idea that by attending this one committee meeting I would be set on a path to discuss diversity more freely within the practice of Infant Mental Health (IMH). In addition, I felt motivated to reflect upon how society views me as well as how I view myself.
The journey of being a minority clinician and participating in the reflective supervision process has been a labor of love. For the last seventeen years, I have worked in the field of social work and have taken on various roles such as a child protective service (CPS) worker and an investigator for a foster care agency. In these past nine years, I have occupied the position of an Infant Mental Health (IMH) therapist for three different agencies. My employment history has been wide-ranging as it has taken on different forms. I have worked on an all-African American team; I have worked as the only African American on the team; I have worked on an African-American female team; and currently I am working on a multi-cultural female team.
When I began working in the field of social work, I was on an African-American child protective service (CPS) team in New Jersey. Interestingly, I did not think about diversity or the lack thereof in the workplace. I felt at home and had a great deal of pride being on a predominately black team. The concept of a mostly black team almost seemed unheard of in most professional communities. Needless to say, I was excited to announce that my peers, supervisor, case manager supervisor, and district office manager were all black. It was wonderful working with a talented group of professionals who were high achieving and ambitious. They mirrored my most industrious and academic qualities.
After completing my master's degree in Michigan, I sought employment as a therapist. I landed at an agency where I was a part of the first all-African-American female team in Infant Mental Health (IMH) at that time. I did not have a real concept of what diversity looked like in IMH until I attended my first training out of the agency. Quickly, I learned that I was in the minority. For the first time, I was not sure how I would fit into a world that was different from what I was accustomed to in the workplace. Coincidently, the very first IMH training I attended was on diversity. I remember sitting with my fellow peers during the training. When instructed by the presenter to separate into groups with the other attendees, I worried and thought, "Oh no, I have to be the representative for all black people." The participants in my group were filled with questions and wonderings about my experience as a black IMH clinician. I was in an uncomfortable position of wanting to share my experience while knowing I could not speak on behalf of every black therapist. I felt the pressure to share as well as to avoid the stigma of "the angry black woman."
Throughout the years, numerous experiences have taught me that good reflective supervision is invaluable. I wish I only had stories to tell about how wonderful and uplifting reflective supervision has been without one single "misstep," but that would not be truthful, nor would it be helpful. I feel strongly that it is important to embrace the good and the bad in order to have true reflection of yourself, supervisors, peers, and the families we serve. Fortunately, I have more positive experiences with reflective supervision than negative. Conversely, the few missteps were equally valuable and helped me understand what I wanted as well as needed out of reflective supervision. This enabled me to find my voice so that I might also advocate for myself when necessary.
SIGNIFICANCE OF THE PATH
I was honored to have the opportunity to present for the first time at the MI-AIMH 40th Biannual Conference on Diversity and Mindfulness. I was even more proud to be a part of the process to help choose this much anticipated topic. That being said, I also felt it was important to provide relevant, helpful, and honest information to all of those who attended the workshop. This presentation meant so much to all of the presenters involved in the development. With such high regard for this opportunity, there was a tremendous amount of pressure being on a team that was predominately comprised of African-American women, especially since we were expected to represent Starfish Family Services well at the MI-AIMH conference. I felt the most impactful part of my presentation was sharing my experiences as an African-American home visitor. I made sure to convey that we often take for granted that our work is triggering. The importance of reflecting with your supervisor, receiving opportunities to grow, and being vulnerable during times that may seem unbearable in the moment are key in this field.
KASSANDRA'S PASSAGE THROUGH AWARENESS
College had always been stimulating. My professors were challenging, and my classmates made the time bearable with quirky and off-putting remarks. On some days, I enjoyed just being the observer in the room as I watched the exchanges from professor to student and vice versa. On one particular day, I remember arriving to class when, in the middle of the discussion, my classmate stated, "it's hard being a social worker in an all-black school." She continued to explain her position as she said, "They are all just so loud and can be very aggressive." Class did not go so well after that occurred. She was a young, white student who was learning how to become a professional, just like the rest of us. Her words fell on an entire class of approximately 40 or so people who attended the university from assorted backgrounds. The tension was high in the room as my classmates of all of colors began to take on awkward behavioral stances due to the unfortunate blunder. My white friend sat across from me in class. Upon hearing her words, I saw how he instinctively rolled his eyes and then dropped his head into his hands.
I knew I was upset, but there was something more I was feeling, and I could not place it by name. Yes, I was bothered that she minimized her intern experience to negative black generalizations or stereotypes. Of course I felt like she had reinforced stigmas, and triggered my inner dialogue of being forever misunderstood as a minority. But there was something more, and it was "driving me up a wall" as I felt it in my body. The sensation in my throat was like choked-up tears, and it stayed with me until I was all talked out. It was sadness, embarrassment, and shame. I was haunted by my classmate's watery eyes. I could tell that she had no idea that she was on her way to being schooled on every societal offense between whites and blacks. The class went from a silent emotional uproar to an intellectual overhaul that sparked a contentious debate on privilege and power. When it was over, she was humiliated, and I could feel her sadness and shame. Was this compassion that I was experiencing or, perhaps, empathy? Why? How was it that suddenly on my drive back home that my anger and frustration ceased, and I was moved to tears on her behalf?
I would have no substantive meaning associated with the term mindfulness until three years later. I was a fresh black therapist and I sat across from my supervisor in what she said was reflective supervision. She was white, with blondish, long hair that was conveniently tied into a bun, and a small piercing accompanied her nose. She would nurse her coffee mugs as I talked in a room filled with pictures that were affirming. I could tell she liked skeletons and pirates as the trinkets were eye-catchingly placed on the shelf. I would look at them in moments when she asked hard questions or when I needed a mental break from the conversation at hand. I began to trust her, but not immediately. She did something that I thought was remarkable. My supervisor noticed me; I mean quite literally that she paid attention to all that I did in that meaningful window of time. I was perplexed at how she conducted this study of my movements, my tone of voice, gestures, and so forth, and she brought them to my awareness in connection to my feelings. Slowly, I began this journey of self-reflection through the mechanism coined mindfulness.
Through observing my supervisor "noticing" me, I found ways to slow down and find stillness as a means of reducing my distractions to feel more intensely. Moreover, I was struck by how this skill brought two people together who were so vastly different and, coincidently, the "holding" of these differences brought regulation and trust to our relationship. One day, she looked at me and said, "I wonder what it is like for you to see your client who is young, beautiful, and black struggle in this way. I am wondering what comes up for you?" She was referring to my teen mom who had been affected by a long history of trauma, societal stigma, and oppression. I let the tears roll down my cheeks after a drawn-out pause of quiet. Although our histories were different, I saw myself in my client, and we — my supervisor and I — pieced away the bits that were chomping at my heart so I could return the favor in the upcoming sessions with my client.
Years later, I found myself taking on additional responsibilities and transitioned to a different team that would seek to impact health outcomes by addressing mental health concerns through a collaborative effort known as integrated healthcare. I walked into the office with my colleague. She was black, unapologetically black, with fair skin and light brown, short, loosely curled hair. She widened her brown eyes as she asked me to collaborate on a project for diversity and mindfulness. I placed my brown hand across my puzzled face as I sat to ponder. I did not know what I had to share or offer specifically, but I knew I wanted to gift other clinicians with the experience of self-awareness, understanding, compassion, and containment. These concepts, modeled in supervision, provided an effective foundation to explore relationship, as mindfulness proved to be the active agent in creating transformative change in the reflective process. As I recollected on my college experience, I became very much aware that what happened to my classmate could have happened to me as well, and probably has happened. The reality is that everyone maintains biases that affect how one thinks, behaves, and/or feels. I wanted to address these areas to enhance the clinical experience of practitioners so they can advance their skill level on all levels of this work.
A TRAIL LESS TRAVELED
On a micro level, practitioners working with individuals and families, the purpose of the designed presentation for diversity and mindfulness was clear and practical. It was to analyze one's use of self with clients through creating a space in which individuals could reflect upon their own sense of awareness. As clinicians assess and intervene with the family system, they bring their own unique set of "luggage" with them into the clinician-to-client relationship. In using the term luggage, it is to denote the history of the clinician (e.g., family background, generational trauma, or previous abuse), as well as his or her comprehensive identity or individuality (e.g., culture, values, gender, unconscious bias, demographics, or insecurities) that is "carried" into the therapeutic space.
This luggage that is carried into the therapeutic space, affects and shapes the clinical lens of how or what is assessed within the family system. Perhaps a female clinician has an unconscious bias toward men due to an unresolved trauma in childhood, the representation of men in her identified culture, or the perspective of men within her family culture of origin. One might consider how she could assess and intervene with a patriarchal family in which the father is highly involved in services. To ignore these issues, specifically the diverse set of experiences, qualities, characteristics, and histories of the clinician, is likened to ignoring the uniqueness of the families that are served. How do we see the families we work with if we do not take the opportunity to see ourselves? Thusly, it is an act of vulnerability and, consequently, courage, to repudiate the engagement of such ideologies that promote diluting or numbing the diversity of the clinician and the client.
The practice on a macro level has a similar appeal. Clinicians seeking to advance policies or systemic change may need to consider how their "luggage" is activating their motivations in their change efforts. Moreover, what is in their luggage might have them sitting on their hands rather than being a part of active change. As observed during many discussions, privilege is a prevailing theme that mutes participants and possible stakeholders within the problem-solving process. Individuals who may feel that it is not their "battle" or concern may neglect influencing or affecting policy or systemic change because of their skewed view that this is not their "burden." Some involved in the change process may feel inclined to use an "expert in the field model" by using a minority representative to speak on the behalf of an identified community because other members feel inept and uninformed to advocate on relevant matters. Such methods are both faulty and inappropriate as a single person cannot fully represent the innumerable qualities, beliefs, and traits that are found within any given community. When the practitioner is able to assess their luggage, they can reflect upon what inhibits them to act as well as what moves them toward action. The first step is awareness and self-reflection so that practitioners, whether advocates, policy writers, or clinicians, can show up to the proverbial table for discussion and be prepared to be effective change agents.
UNPACKACKING DOWN THE ROAD
I had no idea that in giving a presentation so much would be returned back as a gift from the audience. I was aware that this presentation was heavy. It was heavy emotionally, conceptually, theoretically, and, overall it was too heavy to hold. Walking into this presentation as a presenter, I knew I would be confronted with a crowd of my coworkers and colleagues who have worked tirelessly in this field. I knew I might see some familiar faces who were my mentors, and I reveled in their accomplishments. Knowing all of this made me extremely frightened. Because what I was implicitly aware of was that I would be before a majority white crowd, and I was the black girl talking about diversity.
"What if I said something offensive?" I thought to myself. I reflected upon my classmate from college and thought, "This could be my blunder moment." The anxiety that I held was overwhelming as I criticized every inch and piece of the work to be presented. I was judging and rehearsing each issue as a means to ensure perfection. Something unconscious was at work, but all I could feel was the weight and ache of its heaviness. So I did what I knew to do and what I had been trained to do, I gave it to my supervisors for them to hold too. I sat down with them. One looked at me first and said, "I wonder why this particular presentation is affecting you so much?" I thought the answer was obvious. Understandably, I did not want to look like a babbling buffoon in front of a crowd of people. A second probe was being formulated. He peered through his glasses and with folded arms against his chest he said, "I am just wondering what it must be like for you to be black and up before this white crowd of people." I pretended not to understand, and said, "Whatever do you mean?" He shrugged his shoulders and said, "I do not know, but I am thinking about all stereotypes that blacks encounter, such as if they can speak well or not." He voiced the weight that I had been holding. I wiped the free flowing water from my face as the connection of my intense drive for perfection was to thwart all possible stereotypes that could be derived during this presentation. Stereotypes that were used against me that I kept tightly packed in my luggage. On that day, it was too heavy for me to carry alone, so I unpacked before an intimate crowd of two white superiors so I could go on to do the work in front of a larger crowd.
I was awestruck as I met a crowd of people who showed up to advance toward a conversation of transparency and an eagerness for change in the status quo. There was acknowledgement of grief, misunderstandings, and hurt that paved a way to healing, strength, and empowerment. The underlying theme persisted, and was exemplified in the fishbowl experience that our clients have a fundamental need to be seen, heard, and understood. Nevertheless, the work of mindful self-reflection begins with the clinician first as the catalyst for exploration. Also, quite possibly, it is paired with a healthy dose of tears and tissue.
CHY'LEETZIA'S FIRST STEPS IN VULNERABILITY
In order to get a clear understanding of my desire to embrace diversity as a reflective supervisor, one would have to go back to the beginning of my Infant Mental Health (IMH) career. I was the only African-American Infant Mental Health Therapist within an agency providing IMH services.  I had one significant situation in which I went into a home to provide services to a Caucasian family.  This family consisted of an 18-year-old mom and a 2-year-old girl.  This young mom and her boyfriend were separated due to domestic violence and Child Protective Service (CPS) involvement.  Although father and mother were not together, dad was able to make his presence felt because mom and baby lived in his aunt's home. As I continued to visit the home, I sensed increasing tension. So finally I discussed with mom the things that I had noticed and she said, "He doesn't want you here because you are black, but I don't have a problem with black people so I want you to stay." I did not know what to do.  Fear overtook me.  I immediately went to my supervisor.  She was supportive in helping me develop a safety plan for this family and myself. However, there was no invitation that I am able to recognize, then or now, to explore my reflections on the situation at all.  When I brought this family up in the next reflective supervision, there was a courteous, "How are you and how's it going?" Still, I sensed that I should be courteous back and offer a polite response, "Things are going well and we are meeting in the community."  It did not take long for me to stop discussing this family within supervision.
Eventually, I left that mental health agency and came to Starfish Family Services where I encountered a similar situation.  I attempted to dance around the topic with my new reflective supervisor, providing her with facts about safety and discussing the family dynamic.  This supervisor allowed me to skate around the reflective process for a while. Then, one day, she told me that she knew that I was not ready to share my real feelings and thoughts about working with this family. At the same time, she provided me with the assurance that she was strong enough to handle them whenever I was ready. The "dam" broke, and I ended up giving more than what I had in my awareness as well as more than I had anticipated giving.  I felt so free! It reinforced the notion that "an alliance for the purpose of reflection requires a respectful collaborative stance and process, an attention to emotional content and co-regulation, and an agreement to establish a working relationship that is safe"  (Watson, Harrison, Hennes, & Harris, 2016, p. 16).
Fast forward, I became the first Integrated Infant Mental Health Supervisor at Starfish Family Services.  My team is breaking ground by providing behavioral health consultation through an IMH lens in obstetrics and gynecology (OB/GYN) clinics to physicians, as well as providing Infant Mental Health therapy to families. I was overwhelmed, honored, and afraid to be in this position. Also, I felt inadequate as a new reflective supervisor. I found myself considering ways that would be more effective while providing reflective supervision. In addition, I recognized that I was a willing participant in allowing crucial cultural information to go unseen.  Similarly, I allowed my team to gloss over noted similarities and differences that impacted their ability to "see" the family. My team recognized my inability to see them. How do I know?  Because they all began to reschedule or make up excuses as to why they could not come to their reflective supervision.  My feelings of inadequacy could not win against my desire for my team to be seen so that they could fully see the families they serve.
I began to actively seek out ways to see them as individuals. I began by giving them recognition regarding what makes them unique as clinicians.  Exploring their differences helped them provide an alternate view for families. This created a safe space for them to "be seen" so that they in turn could allow themselves to "see" the whole family. According to Schafer (2007), "the supervisor's role is not so much to instruct what to do as  it is to help the home visitor reach a deeper awareness of the emotional forces impinging upon her as she struggles to uncover, understand and move with the patterns of change emerging within the interactions" (p. 13). Consequently, bringing attention to components of the clinician's identity or "seeing" the clinician is seemingly an integral piece of the work within reflective supervision, as she or he may be struggling to recognize or understand elements related to their identity or diversity.
JOURNEYING BEYOND
Most agencies providing IMH services cannot afford to hire one staff to provide individual administrative supervision and another staff to provide individual reflective supervision. Therefore, it is necessary that the supervisor wear both the administrative and reflective hat.  Learning to balance these supervisory roles is problematic for both the supervisor and supervisee. The same person who writes your evaluation is the same person with whom you are expected to explore some of your deepest emotions.  With this in mind, it is important to note that "supervision is inherently an unequal relationship" (Center for Substance abuse treatment, 2009, p. 108). In short, there is a power differential at play here. This is made clear as Stroud (2010) indicates, "the holder of the power in the relationship (in this case, the supervisor) should open the door to discussions of power, privilege, and prejudice" (p. 48). The supervisor should recognize this power differential, as ignoring it could create strain on the supervisory relationship. When the power differential is recognized, it gives power to the clinician to recognize the issues of power and privilege that could be affecting the clinician-to-client relationship. Simply put, the clinician is readily apt to "see" the diversity of the family, and to entreat upon deeper reflection within supervision.
An effective and supportive professional relationship is at the heart of reflective supervision. As a relationship-based approach to professional development, how the supervision and the quality of the relationship develop between the supervisee and supervisor is of the utmost importance (Weatherston & Tableman, 2015). More pointedly, "it is the supervisor's responsibility to initiate discussions of differences in race, ethnicity, gender, religion, socioeconomic status, sexual orientation, or disability regarding both clinical work with clients and supervisory and team relationships. This promotes the acceptance of diversity and cultural issues as appropriate topics of discussion and allows the supervisor the opportunity to model culturally competent behaviors" (Center for Substance Abuse Treatment, 2009, p. 89).
WHEN TWO PATHS MEET
Schafer (2007) states that "supervision can be the most vibrant hour of the week for a supervisor and the most longed for and valued time for a supervisee" (p. 4). In line with this position, it was my goal to offer a containing space for reflective supervision so that both the supervisee and I would be present. It has been my continued desire that my team feel that their reflective supervision is an appointment worth keeping. In order to accomplish this goal, I had to explore my own limitations surrounding diversity in the supervisory process. In addition, I was tasked to reflect upon my own uneasiness with vulnerability, which blocked me from allowing others to be vulnerable in reflective supervision.  Allowing those vulnerable moments, in which I had to admit "I don't have all the answers" and "I make mistakes," helped balance the power differential and allowed for the reflective process to be more easily entreated. This is what I attempted to convey during our presentation at the 2017 MI-AMH conference. So in the theme of demonstrating vulnerability, I offer you my reflections of the presentation.
As I went through the presentation slides, I felt an enormous amount of trepidation. I had this recurring thought, "What are you doing up here?"  I felt so small in this big room trying to convey what I was sure everyone else in the room already knew. I attempted to move on to the next few slides that addressed the importance of recognizing that trust takes time, allowing room to address barriers that stop connections in the reflective supervision process and, finally, creating opportunities for connection. The ultimate culmination came to the following: VULNERABILTY. Beginning the fishbowl presentation, I kept thinking, "I wonder will they get it?" The fishbowl experience would allow me, as the supervisor, to do a live supervision with one of my willing supervisees while the audience observed the process and provided reflective feedback. I wondered if the audience understood that I was not demonstrating my expertise, but, rather, that I was attempting to express the importance of being present in spite of distractions. I attempted to tune out the audience and focus on my supervisee in the fishbowl presentation.
My supervisee's presentation was supposed to be about how including dads into IMH services presents diversity challenges that are not expected. As she and I embarked on this journey together, I kept thinking, "Just listen and be present."  As I began to listen, I noticed that the presentation began to veer off from where we thought it might go. My body began to react in ways that I did not expect.  I became afraid.  I felt that I had inadvertently exposed her in my attempt to be vulnerable. We reached a moment and the only word I could say was, "Wow." I saw her.  I saw her tears. We reached a point that led back to her. Once I recognized my supervisee in the work and the attributes that she was grappling with as a clinician, she was able to make the connection to her feelings while working with her presented family. In seeing herself, my supervisee was then able to more clearly "see" her family as well.
CONCLUSION
Diversity takes on many forms, and often times it is difficult to face what makes individuals different. The shared narratives were used to expose the ongoing need for vulnerability in order to understand the intricate nature of diversity within relationship and the reflective process. Mindfulness is a practice that can aid the therapeutic process as a means to gather deeper self-reflection and understanding. With the use of mindfulness, gains are made within the reflective process as the supervisor and clinician acknowledge and explore the essential diversity components related to their identity or individuality. It is through this self-reflection and exploration that a deep level of self-awareness is achieved. Trust and empathy are needed to build a strong therapeutic and supervisory relationship, and when the clinician is comprehensively seen, with diversity held in mind, the families we serve are seen as well.
REFERENCES
Center for Substance Abuse Treatment. (2009). Clinical Supervision and Professional Development of the Substance Abuse Counselor: Treatment Improvement Protocol (TIP) Series 52. (DHHS Publication No. (SMA) 09-4435). Rockville, MD: Substance Abuse and Mental Health Services Administration.
Ippen, C. G., Norona, C. R., Thomas, K. (2012). From tenet to practice: Putting diversity-informed services into action. Zero to Three, 33(2), 23-28.
Schafer, W.M. (2007). Models and domains in supervision and their relationship to professional development. Zero to Three, 28(3), 10-16.
Shahmoon-Shanok, R., & Stevenson, H. C. (2015). Calmness fosters compassionate connections: Integrating mindfulness to support diverse parents, their young children, and the providers who serve them. Zero to Three, 35(3), 18-30.
Stroud, B. (2010). Honoring diversity through a deeper reflection: increasing cultural understanding within the reflection process. Zero to Three, 31(2), 46-50.
Watson, C., Harrison, M., Hennes, J., & Harris, M. (2016). Revealing the space between. Zero to Three, 37(3), 14-21.
Weatherston, D., & Tableman, B. (2015). Infant mental health services: Supporting competencies/reducing risks (3rd ed.). Southgate, MI: Michigan Association for Infant Mental Health.