How can MI-AIMH Grow the Diversity of the IMH Field?
By Sheryl Goldberg, LMSW, ACSW, IMH-E (IV)
The short answer to this question is, "Intention and Attention". The rest of this message will offer you information to reflect upon related to our growth process.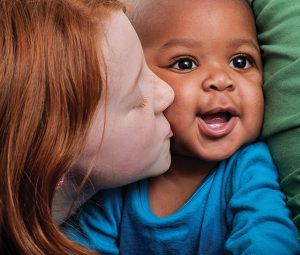 Our Chosen Definition of Diversity
MI-AIMH strengthens and supports a diverse infant and early childhood mental health-informed workforce, engaging professionals who represent many different cultures, ethnicities, disciplines and service communities. These professionals support pregnant women, infants, toddlers, young children and families in a variety of ways, integrating I-ECMH principles in their work with families.  Because we believe that it is important that we direct our workforce development activities towards this broad expanse of individuals and organizations that touch the lives of families during this sensitive period, we feel an equally broad definition of diversity is required.
The challenge that we acknowledge is that it is difficult to "go deep" in any one priority area when we are so broad in our attention.  There is no doubt that we have many miles ahead in this journey, nor that we have laced up our sturdy walking shoes to travel down the path.  In reflecting upon where we have been, where we are now, and where we are going, I hope we can notice and mark the milestones achieved and power ahead to reach those before us.
The Evolution of IMH Workforce Development Efforts
Founded in 1977, MI-AIMH was born from Selma Fraiberg's pioneering infant mental health work recognizing the critical importance of the infant-parent relationship to all learning and development. Over time, MI-AIMH has translated her model of "therapy around the kitchen table" into a comprehensive, practical framework for infant and family professionals, which has guided the IMH home visiting model in our public community mental health services system in Michigan.  The attainment of Medicaid funding to support this treatment by MI-AIMH Endorsed mental health clinicians has resulted in tremendous growth of IMH treatment services for high risk families who are pregnant or parenting infants and young children.  However, other professionals also spend many hours with very young children and work with families who are pregnant or parenting birth to six year olds, and we want them to use our resources and expertise to support relationship-focused, reflective practices aligned with infant mental health competencies.
Our relationships with other important systems serving infants, young children and families over the years have continued to inform understanding about the importance of an IMH informed workforce to the well-being of those we serve.  Endorsed professionals now represent the broad array of service delivery systems to this population, even though the majority are still providing infant and early childhood mental health services in CMH programs.
Our framework to guide understanding and attainment of competency, the MI-AIMH Endorsement for Culturally Sensitive, Relationship-Focused Practice Promoting Infant and Early Childhood Mental Health® developed in 2002, reflects the diversity of practitioners in terms of their professional roles and practice settings.  The competencies upon which this was built are what we have focused our training programs on ever since.
Specific to cultural diversity, all of our training events intend to integrate this perspective into the didactic and reflective components of the programs.  Sometimes we have been more successful than others in these efforts, and current vetting of potential training emphasizes this as a focus.  We have also developed and delivered training over the years wholly devoted to issues related to culture, relationship support across difference, and identity self-awareness.  In the last several years we have offered memorable stand-alone events and MI-AIMH Conference presentations from diverse trainers on topics such as historical trauma, hair-combing interactions, third space, the Irving Harris diversity tenets, reflective supervision where there is racial difference between supervisor and supervisee, and more.
Coming up in 2018 and 2019, we will have a repeat offering of "Climbing Mountains, Building Bridges" (an important training offered over the last few years), and two major events built to deepen our competency in providing culturally sensitive relationship-focused work:  The Explorations in Development 2-day conference offered in collaboration with Wayne State University's Merrill-Palmer Skillman Institute IMH Dual Title Program and Healthier Urban Families Program this fall will examine the role of culture, power and privilege in seeking and utilizing early intervention and early childhood mental health services.  Our 2019 MI-AIMH Biennial Conference in May is entitled Relationships Heal: The Transformative Power of Connections, which will reflect many aspects of our work through a cultural lens.
Building More Diverse IMH Leadership
Competency-based training leading to Endorsement will always be one of our key strategies for building strong infant-family professionals.  This is our primary mission, but it is not enough to address the needs in our field to open pathways that will result in more culturally diverse leaders.  We are attending to this both within MI-AIMH and within the global organization we are a part of, the Alliance for the Advancement of Infant Mental Health®.  Here are a few important examples of intention and attention to this area of need:
MI-AIMH's Board and Liaison roster now reflects more racial diversity than ever in its officers, committee leadership, and representatives
The EASy application system for Endorsement® has been translated into Spanish for the IFA and IFS categories thanks to grant support from our Alliance partner, the Oregon Infant Mental Health Association, Colorado's Project LAUNCH, and Connecticut's HSSCO. Further efforts are underway to support translation at the IMHS and IMHM categories, as well as to hire a Spanish speaking Endorsement Coordinator to work with potential applicants across the country
The next Annual Reflective Supervision/Consultation (RSC) Symposium that will be in Colorado in August will continue to provide an in-depth opportunity to build reflective supervision expertise and leadership. I have had the privilege of being on the planning committee as an Alliance Board member. Entitled "Mining the Depths: An Exploration of Equity Through the Reflective Process", we intend to immerse attendees in considering the impact of race and equity on the important relationship for learning that RSC offers.
The Alliance drafted a Call to Action document for all member IMH associations on Diversity, which will be published in our next Crier issue
MI-AIMH is exploring the feasibility of joint grant-seeking with Wayne State University/Merrill-Palmer Skillman Institute to offer Diversity Fellowship experiences once again
It is with great humility that I ask you to celebrate what we all have accomplished thanks to the many voices and hours of intentional attention to the issues at hand AND to stay engaged as we continue to find our way forward together.