A 3-Year Old's Separation Anxiety
By T. Berry Brazelton and Joshua Sparrow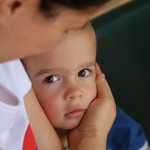 Question: I am a professional and a married mom with two wonderful boys, ages 3 and 1. The 3-year-old struggles with severe separation anxiety every time I go to work. He wants me to be the person who does everything for him. He throws a fit if his father or grandmother diapers him or helps him dress. Getting out of the house in the morning is so emotionally exhausting that it's affecting my job. We have a strong bond and spend one-on-one time together every day, but this aspect of parenting is so hard. Now my other boy is starting to behave the same way.
Answer: Is your 3-year-old close to the person who takes care of him while you are at work? Your confidence in his caregiver can reassure him that everything will be OK until you return. If you have doubts, your boy will pick up on them.
If you give in to his tantrums, you are sending the message – even though unintentionally- that he's right to want you and no one else.
At 3, your boy is old enough to understand that you still exist when you are not in sight. But a reminder will help. Let him know where you are going. Describe your workplace so he can picture you there. Give him a photo of you, or an old small scarf of yours, and tell him to hug it tight or keep it in his pocket.
Does he have a favorite stuffed animal or doll? If not, let him pick one- just one- and encourage him to hold it close when he is feeling sad or frightened.
Remind him that you always come back and that you always will. Show him examples of other things that go away and come back, like the sun and the moon and the stars, the day and the night.
Read him a book about young children that are looking for their mothers ("Are You My Mother?" by P.D. Eastman) or running away from them ("The Runaway Bunny," by Margaret Wise Brown)- the flip side of the same coin.
Distributed originally by The New York Times Syndicate with permission to circulate, copy and redistribute through MI-AIMH.
Responses to questions are not intended to constitute or to take the place of medical or psychiatric evaluation, diagnosis or treatment. If you have a question about your child's health or well-being, consult your child's health-care provider.