Grass Roots Growth and Change
By Deborah Weatherston, PhD, IMH-E®
For many decades, the creative energy of members of the Michigan Association for Infant Mental Health (MI-AIMH) has contributed to the knowledge and understanding of infant mental health principles and practices for thousands of professionals across disciplines in the infant and family field. Beginning with the first infant mental health conference in 1977 and continuing with the publication of MI-AIMH Training Guidelines in 1986, policy papers promoting infant mental health (1985 to 1997), manuals and monographs (1989 to 2015), learning tools (2002 to 2016) and practice DVDs (2012 to 2016), MI-AIMH and its members have made their mark as national leaders, defining and supporting infant mental health.
In addition to producing materials for professionals and parents to promote relational health, MI-AIMH members developed a set of standards, the MI-AIMH Competency Guidelines®1 (2002), as well as a systematic approach to work force development, the MI-AIMH Endorsement for Culturally Sensitive, Relationship-Focused Practice Promoting Infant Mental Health® (2002), for the infant and family field. Linked to the MI-AIMH Training Guidelines (1986) and professional development indicators identified by the Michigan Department of Education (1996), the standards and plan provide a framework for use across systems and at multiple levels to promote infant mental health. Both provided an extraordinary focus for MI-AIMH for the last 10 years. Experts in the infant and family field recognized the standards and plan as a pathway for best practice and professional recognition in a diverse and rapidly expanding infant mental health field.2,3
Michigan continued to lead the initiative and by 2013, 13 associations had licensed the MI-AIMH standards and work force plan to support knowledge, skills and reflective practice approaches for the development and promotion of infant mental health in their states. The oversight and quality assurance demands for a small MI-AIMH staff were considerable. The MI-AIMH leadership and leaders in other member states recognized that future strength and growth would require organizational change. The MI-AIMH Board of Directors subsequently engaged in a strategic planning process with knowledge and support from non–MI-AIMH leaders and proposed the creation of a separate organization to manage the endorsement. The organization was incorporated as the Alliance for the Advancement of Infant Mental Health, Inc.® By June 2016, the Alliance® shareholders approved an 11-member Board of Directors, officers, member qualifications and a set of by-laws to govern the organization. What was once a small, grass roots effort developed by MI-AIMH had grown to be a sizable national and international movement, co-lead by MI-AIMH and a new leadership structure, with over 27 infant mental health associations in the United States and one in West Australia.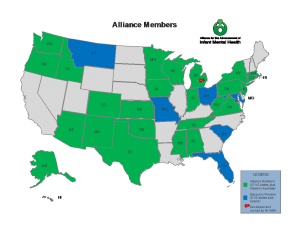 Of note, MI-AIMH leaders were instrumental in partnering with non–MI-AIMH stakeholders to identify priorities for the new organization that included the following: Sustainability funding for the Alliance®, expansion of the endorsement criteria to recognize those working with children 3 through 5, exploration and advocacy for Medicaid reimbursement of infant mental health services at the state and federal levels, development of training models and higher education programs specific to the competencies, consistent messaging and communication across state associations, building capacity for reflective supervision and consultation in each state and evaluation and research of reflective practice and the endorsement process. These priorities set an ambitious course for the new organization and led to considerable challenge and change for MI-AIMH.
Accomplishments in 2016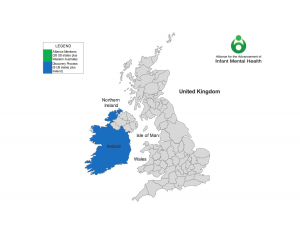 MI-AIMH and Alliance® leaders together coordinated Alliance® activities in 2016 and used distance technology regularly to support and strengthen a sense of community among the IMH leadership across all 27 state associations and Western Australia. Priority projects included:
The development of an early childhood mental health endorsement (ECMH-E) specifically for those working in service settings or on behalf of children 3 to 5 years of age and their families
The Spanish translation of the Endorsement®, its application system (EASy) and supporting materials to extend this initiative to monolingual Spanish-speaking professionals
The completion of the development of the RIOS (Reflective Interaction Observation Scale) to identify core elements of reflective supervision and consultation, under the committee lead of Christopher Watson, PhD, University of Minnesota and with members from Michigan, Indiana, Rhode Island, Connecticut, Texas, Colorado, Kansas and Washington
The co-hosting of the 1st Alliance RSC Symposium, in August 2016, at the University of Michigan, Ann Arbor, with over 115 people in attendance
A renewed focus on competency-informed training and education that encourages relationship building and reflective practice at the 10th Alliance Board Meeting and Leadership Retreat in Scottsdale, Arizona in October 2016
The exploration of ways that states fund infant and early childhood mental health services, examining requirements for Medicaid funding to support and sustain infant-family interventions and treatment services and linking with Zero to Three's Social Policy network for information exchange
The successful funding of research faculty across Michigan universities to evaluate the efficacy of Infant Mental Health Home Visiting (IMH Home Visiting), which is vital for moving the service from a promising practice to an evidence-based practice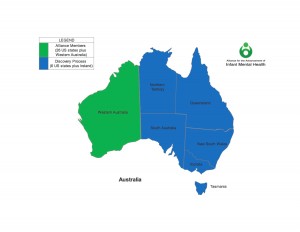 In summary, MI-AIMH's creative energy and leadership for over 40 years has led to an explosion of interest and shared commitment in Michigan and across the country to the promotion of early development and relational health, as well as continuing investment in the principles and practices of infant mental health.
Looking Ahead for MI-AIMH
What next? MI-AIMH's leadership capability and creative ingenuity, so effective in the first 40 years, will continue to characterize the organization as new leaders emerge and commit to infant mental health policies and practices in Michigan and the Alliance® becomes a separate entity governing cross-systems and infant mental health work force development and recognition beyond Michigan. The relationship between the two organizations will remain strong. MI-AIMH and Alliance® staff will continue to share space and tasks for the foreseeable future; MI-AIMH members will continue to share leadership responsibilities for the Alliance®. Growth and change will require strong working relationships between the leaders of these two organizations, as well as empathy, support, honesty and flexibility. The goals of both organizations intersect…
---
References
Michigan Association for Infant Mental Health (2002/2016). Competency Guidelines®. Southgate, MI: Michigan Association for Infant Mental Health.
Annapolis Coalition, 2007
Weatherston D, Kaplan-Estrin M, Goldberg S. Strengthening and recognizing knowledge, skills, and reflective practice: the Michigan Association for Infant Mental Health Competency Guidelines® and Endorsement® Infant Mental Health Journal. 2009;30:648-663.